It takes a long time for bones to heal when broken. Depending on the fractured area, the healing process can range from four weeks to six months.
A broken leg may refer to a break in the femur or thigh bone, the kneecap, the tibia or shinbone, ankles, feet or toes. Some 11 to 15 million adults per year suffer from fractures of the lower limb in the United States due to falls and accidents, work injuries, sports injuries, underlying conditions affecting the bones, and overall stress on the body.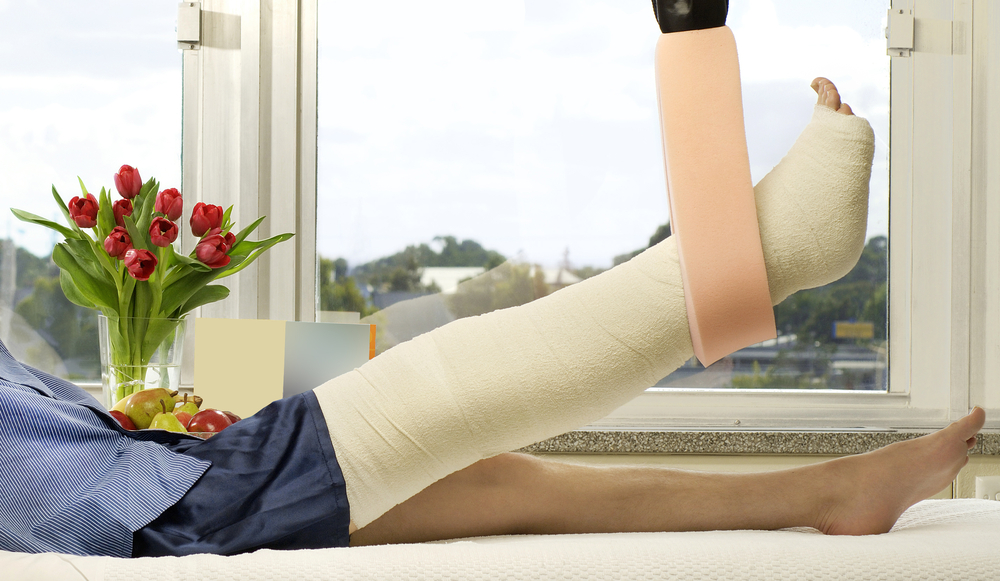 The Complex Healing Process of a Broken Leg
To understand why it takes months for broken legs to heal you must understand the healing process. Inside the body is a complex structure that involves networks of cells and tissues. Fractured bones undergo three phases of bone-building.
Inflammation Stage. Blood clots and a soft callus form soon after the fracture to protect and clean up the injured area. The inflammation usually lasts for days as cells work to prepare the structure for new bones.

Reparative Stage. Bone production follows after the inflammation subsides. It involves the replacement of fibrous tissues and cartilage with hard bone.

Remodeling Stage. Finally, the bone undergoes remodeling as it stabilizes. It strengthens and forms into its original shape, which also signals the body to work on proper blood circulation around the area.
How Can Broken Legs Heal Faster?
Fractured bones undergo the natural process of self-repair. However, if you don't give your broken leg sufficient time to heal completely, then there could be repercussions that permanently affect your life. How you take care of your body will impact how fast the fractured bone heals.
Eat foods good for bone nourishment. Always have food rich in calcium, vitamin K, vitamin C, zinc, magnesium, and protein in your diet. It helps with blood clotting, bone formation, bone rebuilding, and bone strength.

Cut down on some drinks. Resist the urge to drink alcohol, cola or sweetened beverages and caffeine. These drinks can prevent calcium absorption in your bones.

Stop smoking. Research proves that cigarettes slow down the process of bone healing. Nicotine constricts the blood vessels, which then prevents nutrients from reaching the bones.

Attend your physical therapy sessions regularly. You'll lose leg muscle strength while in recovery and you'll need to regain this through specific exercises.

Consider other alternatives. Some people experienced faster bone healing using essential oils or by practicing meditation. Others also swear by the effects of electrical stimulation using pulsed electromagnetic fields. Discuss these options with your doctors properly before undertaking it.
Managing Your Comfort While in a Leg Cast or Brace
Doctors will likely put your leg in a cast or brace to stabilize its structure as it heals. It's normal to feel an itch or discomfort, but it's important to keep in mind that forcing something inside the cast to scratch the itch or tampering with the brace might cause further damage.
You'll also need to keep your cast or brace dry at all times. Always have someone help you if you need to take a shower or bath.
You may also use crutches or a knee scooter to help with your mobility. To ensure your comfort and convenience, you may also use additional knee scooter accessories such as handlebars, knee pads, and baskets.
What Slows Down Bone Healing?
There are several factors that affect bone healing. Some of these can be managed and controlled with proper care.
Your age. Broken bones in older people take longer to heal compared to children or young adults.

Your medical condition and medications. If you suffer from vascular diseases or diabetes, your healing process might be longer. Some maintenance medications can also delay the healing process. Ask your doctor if it's possible to change your medicine while you're recovering from a broken leg.

You have an infection. Some fractures might be too severe that will double the healing time. An infection needs to be treated first before you can proceed with physical therapy.

You force yourself to move. Prematurely moving your injured leg will damage the bone fragments that are still too weak to support your body. Hence, it's important to wait for your doctor's clearance.
Recovery after a broken leg involves a two-fold strategy. First, doctors have to ensure that your leg can recover its normal function. Second, doctors need to make your recovery painless and comfortable as much as possible.
Most fractures don't need surgery but your injury might need this aggressive treatment because of the extent of bone damage. If you do get surgery, then you will experience a longer healing process. If you adhere to your recovery plan and follow your doctor's advice, however, you can regain your leg's function in no time.